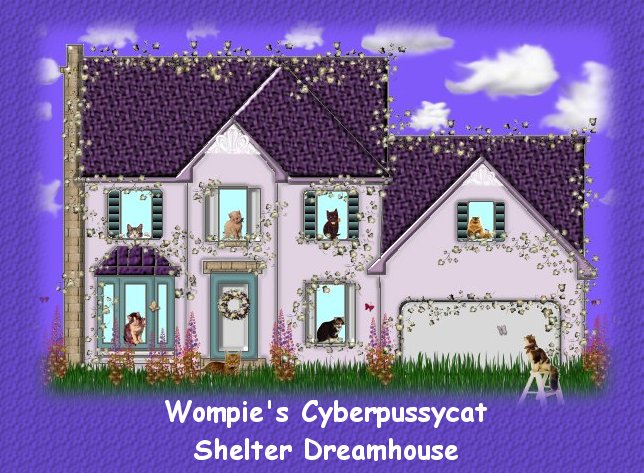 (Can you tell I love your vines tube, Jane? ~L~)


My idea for this dreamhouse came from two online friends: Juicey and CharlieJack. While visiting Juicey in Maine last summer, we drove to Kennebunk where I saw the loveliest, most beautimous Victorian home. It had this color scheme, or a reasonable facsimile thereof. The shelter idea came from a pact CharlieJack and I made that whoever wins the lottery first will build a shelter for the animals and let the other one work there. (Of course, a house is not a home without a plethora of pussies.) Anyway, enough of this useless drivel....on to HOW I did it!



I opened a transparent image 400 x 600 and painted the house outline on it. I started "roofing" the house by using my magic wand to select a portion of the roof. I then copied and pasted as a new layer.
In order for the outline not to show, I used selection.....modify.....expand....1 pixel. (Some sections needed more expansion.) (Don't forget to expand each selection you make. Also, working with a selection in a seperate layer gives you more chances to change your mind. ~L~) I then used the flood-fill tool and filled the section with my favorite color.
Then I used image....effects....texture. Use whatever texture is pleasing to you. I found the hardest part about this is getting the texture to look "to scale." Play around with it until you get it just the way you like it.
Then I used "Eye Candy" to put an inner bevel on the roof section. I wanted it to have depth and a look of perspective. Continue going back to "Layer 1" (your original outline), selecting different sections of the roof with your magic wand, copying and pasting as a new layer, expanding, filling, texturizing and beveling until you have all sections of the roof finished.
If you need to leave your work to get back to it another time, simply merge all your layers visible and save your unfinished work as a .psp file.
The eaves under the roof get selected next. You know the drill. I did an outer bevel with "Eye Candy" on the eaves. Oh, on some of the tight spots, I had to use the spray gun tool set to "1" to fill the color in.
The walls of the house selected just fine until I got to the wall with the front door. It didn't have an outline at the bottom, so I drew one.
I wanted a plantation shutter look for some of the shutters. This was done with the image...effects...blinds after I had flood-filled the shutters. I also used "Eye Candy" to put an inner bevel on the shutters. Don't forget to use your shutter color on any of the other house parts while you're at it.
The chimney and steps and some of the house trim was filled with a brick pattern and inner-beveled with "Eye Candy."
The front door and two white shutters were filled with white and then image....effects......carve.
The gingerbread trim on the peaks of the roof is a dingbat floral corner font I found at Font Garden. I placed it as a floating selection so I could move it around like I wanted to.
I filled the windows with a light blue, because I figured all the furniture would have been shredded by thousands of little pussycat claws by now.
Ok, happy with what you've done so far? EEEE HAAAA! MERGE all layers! (visible)
Now, I don't know about you.....but at this point I felt as if I had actually BUILT a house! ~L~
The funnest part comes next. I love tubes!
I made the purty blue sky using flood fill. Then I dotted it with some puffy little cloud tubes of varying sizes. The grass (needs mowing) is a tube I just painted on until it was thick enough to hide all the transparent parts left on the image. Oh, the pussycat hiding in the grass on the front porch got there before I planted the yard. ~L~
Finding the tubes and sizing them to scale for this project is fun and one at which you should not lose patience. The delphinium and ivy tubes are from (you guessed it) Jane's and the pussycats are some I have found all over the web or are of my own making. A springtime pansy wreath and fluttering butterflies completed the picture. By the way, the vines and flowers can hide a myriad of imperfections! ~L~
I hope you enjoy this half as much as I did.