Welcome, Furry Furriends!

You have just found the BEST of the best of Popoki's Litter. Please visit these wonderful pages linked below, and don't forget to leave your mark in their guestbooks. If you are interested in being nominated for the "Pick of the Litter" award, you must first join Popoki's Litter by clicking here and following the simple instructions. (Popoki's Litter is home to some of the former Tripod Cat's Pod members and feline lovers all over the internet.) You may then nominate your web pages for this prestigious monthly award by e-mailing your URL to Popoki. I will forward it on to the voting committee: Bisser, Juiceykat, and Maddie. Thank you so much, JuiceyKat, Maddie and Bisser for all your hard work! A winner's archive will be posted here, an award graphic for your page mailed to you and you will garner adoration from all the club members. ~purrrrrrr~


February 2000 Pick of the Litter:
Click on the "Personal" link, then "The Stray" link for a heart-warming story. Congratulations, Firethorn!

March 2000 Pick of the Litter:
Almost Everything You Wanted to Know About Cats
Bisser's site contains information about breeds, nutrition, vaccinations, parasites, when to call your vet, cat links and critter images. A wealth of information! Congratulations, Bisser!





April 2000 Pick of the Litter:
Cat Girl is an animal lover, and it shows! Beautiful graphics, the Legend of Chester is not to be missed! Great links and health info, too! Good job, Cat Girl!





May 2000 Pick of the Litter:

Davrica's Maine Coons

"At Davrica Maine Coons, you will find my Kittens Page has all the news on what is available. Take a look at the Boys & Girls to see what type of cats I'm working with. The Show Page gives all the latest news on
how the Cats & Kittens are doing on the show bench. Whether you are looking for a kitten for Pet, Show or Breeding I'm sure you will like what you see here."



June 2000 Pick of the Litter:
Cats Rule!

Check out Bammer's website for original poetry, the latest pictures of her furbabies, and lots of cool original graphics. This site is growing every day!





July 2000 Pick of the Litter:

Reflections of Bo

"Bo allowed me to share his life and love for almost sixteen years. On October 12, 1998, as I held him in my arms, we said our last good-bye... Bo gently fell asleep and left this earth for Rainbow Bridge. He now
plays in the presence of the angels, his kitty mom Boots and Dusty. His spirit and memory will live on in my heart forever. Bo is loved so much and greatly missed by his mommy."



September 2000 Pick of the Litter:
October 2000 Pick of the Litter:
November 2000 Pick of the Litter: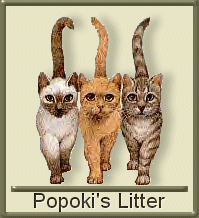 Some of the tubes I used to design these graphics are from Jane's PSPtubes. (Jane's tubes are a particular favorite of mine.) The kitty faces are Linus Face dingbat font. The textures are from the Absolute Background Textures Archive. The majestic white kitty and rose tube is from Lori's Graphic Design.
Sign my Guestbook Read my Guestbook

Website Design Copyrightę 2000, Popoki LaPussy

[Home] [Reading for Cats] [Fun Places for Cats] [Elderly Cat Care]
[Training for Cats] [Web Rings and Causes] [Tripod Helpful Links]
[See Popoki's Awards] [Apply for a Popoki Award] [Send a Free E-Card]
[Join the Nose Kisses and Belly Rubs Web Ring]
Pod Members' Stories:
[Ron] [Heidi] [Oreo]
[Meowy Christmas]
[Wompuss, my Sweetness] [Holly's Story]
[Caring for Pussy] [Popoki's Litter "Pick of the Litter" Awards]
[Join Popoki's Littermates~Pawprints in the Heart Web Ring]