Pod Closure Info

I suppose by now you have all received your email on the Pod closures here at tripod. Rest assured that our homepages, Pod graphic, message board, Best of Pod archive, etc. will still be here. I have set up a new community at Vicinities for us. Here's what you need to do to join:
Click this invitation: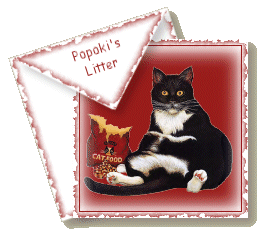 This will direct you to "Popoki's Litter." From the club page, click on "sign up". Read and follow the relatively easy sign up instructions.

When you return to the Club page, don't forget to bookmark it for future reference. You will not be required to download any software.


I think you will all agree that Vicinities is pretty "user friendly" and gives us many more features to play around with. We still have message board capabilities, chat rooms that look to be much faster, we can upload photos to our album, and we can also invite our feline friends (even if they weren't members of the Cats Pod at Tripod) If you have difficulties joining "Popoki's Litter", please don't hesitate to e-mail me at popokilapussy@lycosmail.com with any questions. I'll be happy to help, if I can.

Let's all give a rousing applause to Tripod Pods. And hurry on over to Vicinities to continue our online fellowship on behalf of our furry feline furriends! I'll be waiting there with the catnip! ~nose kisses and belly rubs~



Unsubscribing from Pod Newsletters is easy, once you have the right information.

In order to do this, you need to know your member name and password.

If you DO NOT know your Tripod member name and
password:

1. Go to Tripod help.

2. Along the left edge of the page is a list of membership services links including how to recover your member name, password etc.

3. Follow the appropriate directions there. You'll get email from the Tripod Membership department.
4. Follow the directions below:

Hint: If you have a web page, your member name is included as part of your page's URL:
http://members.tripod.com/YOUR_MEMBER_NAME/page.html

Common problems when trying to find your member
information:

1. Remember that Tripod member names are case sensitive
JohnDoe is not the same as Johndoe.
2. You are submitting the request for your Tripod member
name/password using a different email account than the one you signed up with.



If you know your Tripod member name and password, or
once you've retrieved it:

1. Log on with that membership information at Tripod membership.

2. Go to pod central and select the pod you wish to unsubscribe from.

3. Click on Newsletter: Read, Subscribe/Unsubscribe.

4. On the left side of the resulting page: click on "submit", making sure the button is selected.

5. Click on button just below subscribe/unsubscribe choices.

You're DONE.

Somehow got subscribed to several newsletters? Got to
Tripod Pod Central and click on the "Join Pods" button. This takes a bit of time to return a page, but it will result in
a list of all the pods you are subscribed to.
Each pod listed there is a link and will take you to that pod's main page, where you can unsubscribe from the newsletter as indicated above.

Things to check out at Tripod:

Looking for the latest, most happening things? Find it all at: What's New? Everything from the latest network news, holiday events, page building help, great pages and MORE!

Sign my Guestbook Read my Guestbook


Website Design Copyrightę 2000, Popoki LaPussy

[Home] [Reading for Cats] [Fun Places for Cats] [Elderly Cat Care]
[Training for Cats] [Web Rings and Causes] [Tripod Helpful Links]
[See Popoki's Awards] [Apply for a Popoki Award] [Send a Free E-Card]
[Join the Nose Kisses and Belly Rubs Web Ring]
Pod Members' Stories:
[Ron] [Heidi] [Oreo]
[Meowy Christmas]
[Wompuss, my Sweetness] [Holly's Story]
[Caring for Pussy] [Popoki's Litter "Pick of the Litter" Awards]
[Join Popoki's Littermates~Pawprints in the Heart Web Ring]